World Environmental Health Day 2020
World Environmental Health Day 2020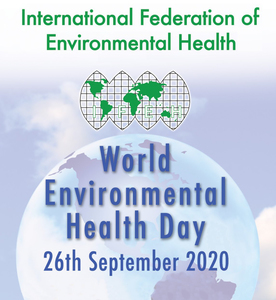 ENVIRONMENTAL HEALTH, A KEY
PUBLIC HEALTH INTERVENTION IN
DISEASE PANDEMIC PREVENTION
Key to the implementation of disease preventive measures is the Environmental Health Practitioner (EHP). EHPs are playing a vital role since the initial response to the outbreak of diseases pandemics all over the world. EHPs play a role in disaster preparedness and response, investigate outbreaks of infectious diseases and prevent it from spreading any further.

Some examples of the most recent infectious diseases outbreaks, besides COVID-19, according to WHO, all over the world are: Ebola; Cholera; HINI flu pandemic; MERS; SARS; Meningitis.

The coronavirus, SARS-CoV-2, the disease named COVID-19, is an infectious disease that has affected 216 countries all over the world. On the 30th January 2020 the WHO declared the COVID-19 outbreak a Global Public Health Emergency. On the 11th March 2020, the WHO declared COVID-19 disease a global pandemic. The outbreak of this COVID-19 disease has caused serious devastation, loss of life and economic hardship in the lives of our people all over the world. This disease has changed our habits and the way we live. It has also tested the health systems in many countries and has impacted on the livelihoods of many people and destroyed many world economies.
Therefore, it is important that our highly skilled EHPs must face up to the challenges that this COVID-19 disease pandemic is posing and do everything possible to protect our communities.
We encourage all member organisations and regional groups, academic associates and national governments to set up initiatives and events to celebrate World Environmental Health Day.
The reason for the theme - Dr. Selva Mudaly, President - IFEH
26 September 2020

World Environmental Health Day
"Environmental Health, a key public health intervention in disease pandemic prevention"