Awards
NATIONAL MARGARET HIND MEMORIAL AWARD
Nominations are Now Open!
The Margaret Hind Memorial Award is for Outstanding commitment to the Environmental Health Industry through integrity, work ethic and achievement.
This is a special award to recognise the contribution made to the environmental health profession by those that may not necessarily be an environmental health officer. This award celebrates the incredible impact Margaret Hind had on the environmental health industry during her 10 years service to EHA.
Recipients of this award must have a strong work ethic, integrity, transparency, honesty and high achievement for the promotion and enhancement of the environmental health industry though the peak professional organisation EHA.
This award is an open category.
Criteria:
Any person involved in the Environmental Health Profession
Members
Committee Members
Event organisers
Non/Former/retired members
Administration Officers
Administration Assistants in the environmental health profession

To nominate someone for this award, please provide a submission of 200 words that details the reasons why the nominee is worthy of the Margaret Hind Memorial Award. The submissions will be assessed by a selection panel consisting of EHA Board members, Life Fellows or Fellows. The recipient of this award will be announced at the 45th EHA National Conference Dinner and Awards night on Wednesday 20 October 2021 in the Blue Mountains.
Nominations close on Friday 6 August 2021
The 2020 recipient of the Margaret Hind Memorial Award was
Dr Paul Byleveld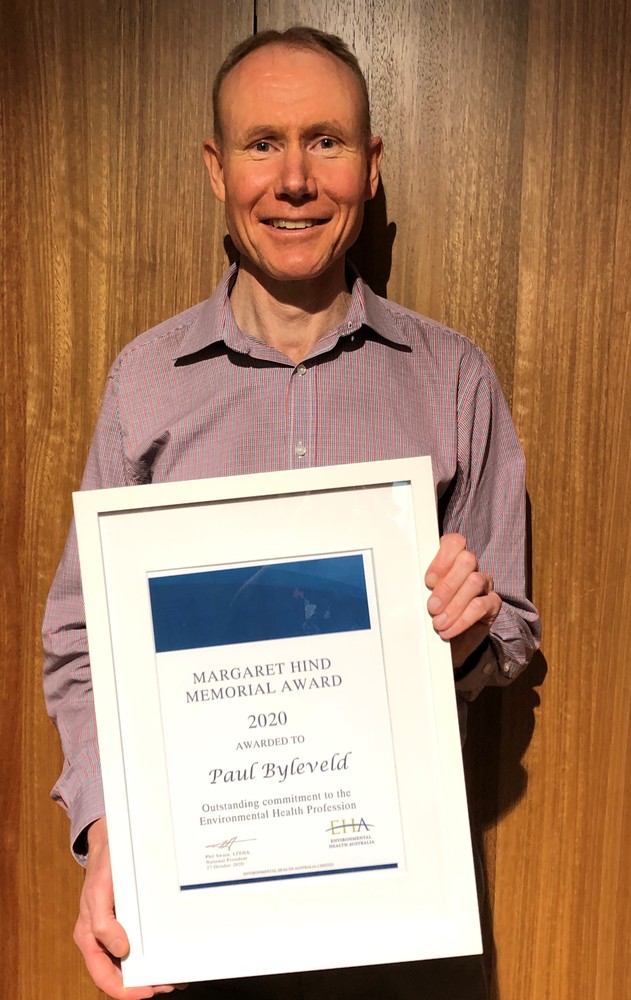 Dr Paul Byleveld has a long and distinguished career in the environmental health field. Most recently Paul has been an integral part of the team supporting the NSW Chief Health Officer inside the emergency operations centre during the COVID-19 pandemic.
Pre pandemic, Paul's leadership of the highly specialised NSW Health Water Unit has improved water quality across the state. This includes urban and regional areas and work in remote aboriginal communities.
Paul has also been involved in humanitarian work improving water, sanitation and hygiene for over 350,000 people in Syria, Lebanon, Bangladesh, Pakistan and the Philippines. Paul is someone who can navigate solutions in the most complex of situations.
A well deserved recipient of the
Margaret Hind Memorial Award for 2020.
CONGRATULATIONS PAUL