World Environmental Health Day 2019
World Environmental Health Day 2019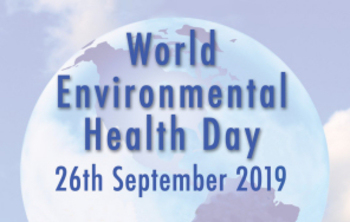 World Environmental Health Day (WEHD) is on 26th September 2019 with the theme this year being Climate change challenges, time for global Environmental Health to act in unison. As a part of WEHD celebrations, EHA is organising a competition for environmental health students. We kindly request staff members circulate this information to students.
This year's WEHD theme aims to draw attention to the affect's climate change is having on vulnerable communities and how environmental health professionals play a vital role in protecting communities against the challenges of a variable climate. (Attached IFEH theme document)
To participate in this competition, students will be required to create a 2-minute informational video, or an e-poster based on the topics below. Submissions will be due by the 13th September 2019 for judging and the winners will be announced on the 26th September via the EHA social media pages. Please submit all entries to samantha.smith@eh.org.au as a .pdf file or as a link to a YouTube video.
The overall best video or poster winner will be invited to attend the 2019 EHA National Conference, with EHA covering registration costs. The winner will have the opportunity to present their work during an interactive session and network with environmental health professionals from around the country.
*Please note major prize winner will be required to arrange their own flights and accommodation.
The winning submission from each category will receive an EHA certificate and their submission will be shared on the EHA social pages between the 26th November and the 28th November in support of the 2nd world congress on climate change being held in Berlin.
Winning submissions will also be sent to IFEH to be featured on their website.
Available submission themes are listed below, students are encouraged to focus on a single topic for their submission:
Climate change and human health
Temperature related illness
Air quality impacts
Extreme weather events
Vector borne disease
Food safety and nutrition
Mental health and wellbeing.
Guidelines for the video:
Should have a clear purpose and align with the topic.
Be short and fast paced (video should not exceed 2 minutes).
Ensure the video includes English subtitles.
Submit in MPEG4 or MP4 format only.
Title your video and include your university and EHA logo in the start and end.
Provide references in a separate document for pictures and content used.
Upload your video to Dropbox, Google Drive, One Drive or similar platform.
Ensure you provide contact details with your submission in a separate document so we can contact winners.
Guidelines for the poster:
An e-poster is an electronic version/PDF of a poster presentation.
The e-poster may include text, figures, charts, tables, images, and artwork but does not include any audio, video, web links or animation.
Please do not enable document encryption or password protection.
The presentation should be in landscape orientation.
The presentation must be in the PPT, PPTX, ODP or PDF format to be accepted (Windows, Mac or Linux).
Please provide one jpeg image of your poster for the EHA Facebook page upload.
Please use Times New Roman, Calibri or Arial font.
All graphs and tables must be embedded in your file and have titles.
Avoid any animated files such as .GIF and be careful to respect copyright and personal anonymity with your images or photos.
Do not insert or embed any videos in your presentation.
Clearly identify which topic you have chosen in your title
Use your university logo and EHA logo on the top of the poster (next to the title)
For more information on the theme, click on IFEH
If you have any queries, email national@eh.org.au with your questions. We can't wait to see your videos and posters! Good luck!