News
Margaret Hind Memorial Award Winner 2022
6th Jan 23
Environmental Health Australia is proud to announce that the recipient of the 2022 Margaret Hind Memorial Award is TONI CAINS.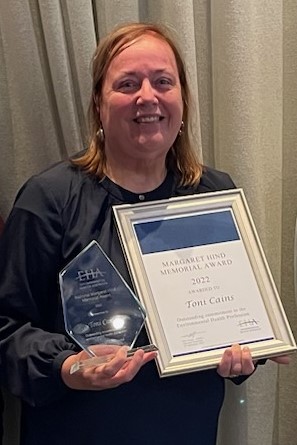 The Margaret Hind Memorial Award is the only national award offered by EHA. This is a special award recognising outstanding commitment to the environmental health profession, for integrity, work ethic and achievement.
Toni is a well-respected high achiever and has had an outstanding career in environmental health. Toni leaves a legacy to the industry in relation to the improvement of state and national policies and to the scientific community of environmental health through research. Toni's valuable contribution to the wider environmental health community covers many aspects of the profession including legionella, skin penetration, bed bugs and COVID. Her contribution to the profession is without measure. She is a technical expert who is methodical and responsive to her work. Toni has supported many EHA conferences and events, speaking and fostering others to attend and speak to share their knowledge and expertise.
A true quiet achiever and deserving recipient of the Margaret Hind Memorial Award for 2022.
Congratulations Toni.