News
Margaret Hind Memorial Award Winner 2020
31st Oct 20
Environmental Health Australia is proud to announce that the recipient of the 2020 Margaret Hind Memorial Award is
Dr Paul Byleveld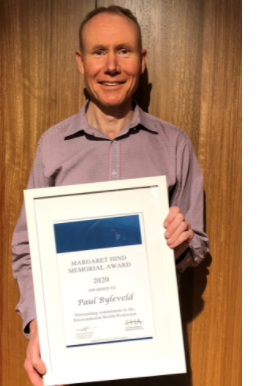 Paul has a long and distinguished career in the environmental health field. Most recently Paul has been an integral part of the team supporting the NSW Chief Health Officer inside the emergency operations centre during the COVID-19 pandemic.
Pre pandemic, Paul's leadership of the highly specialised NSW Health Water Unit has improved water quality across the state. This includes urban and regional areas and work in remote aboriginal communities.
Paul has also been involved in humanitarian work improving water, sanitation and hygiene for over 350,000 people in Syria, Lebanon, Bangladesh, Pakistan and the Philippines. Paul is someone who can navigate solutions in the most complex of situations.
A well deserved recipient of the Margaret Hind Memorial Award for 2020.
Congratulations Paul!